Monkeying Around for Comic Relief
image size 10 x 10 cm
paper size 16 x 16 cm
with traditional torn or deckled edge
Individually handprinted, numbered and signed in pencil under the image
Supplied backed with card and protected by cellophane.
£15 plus free UK delivery
ALL MONEY TO COMIC RELIEF
© Jane Duke 2019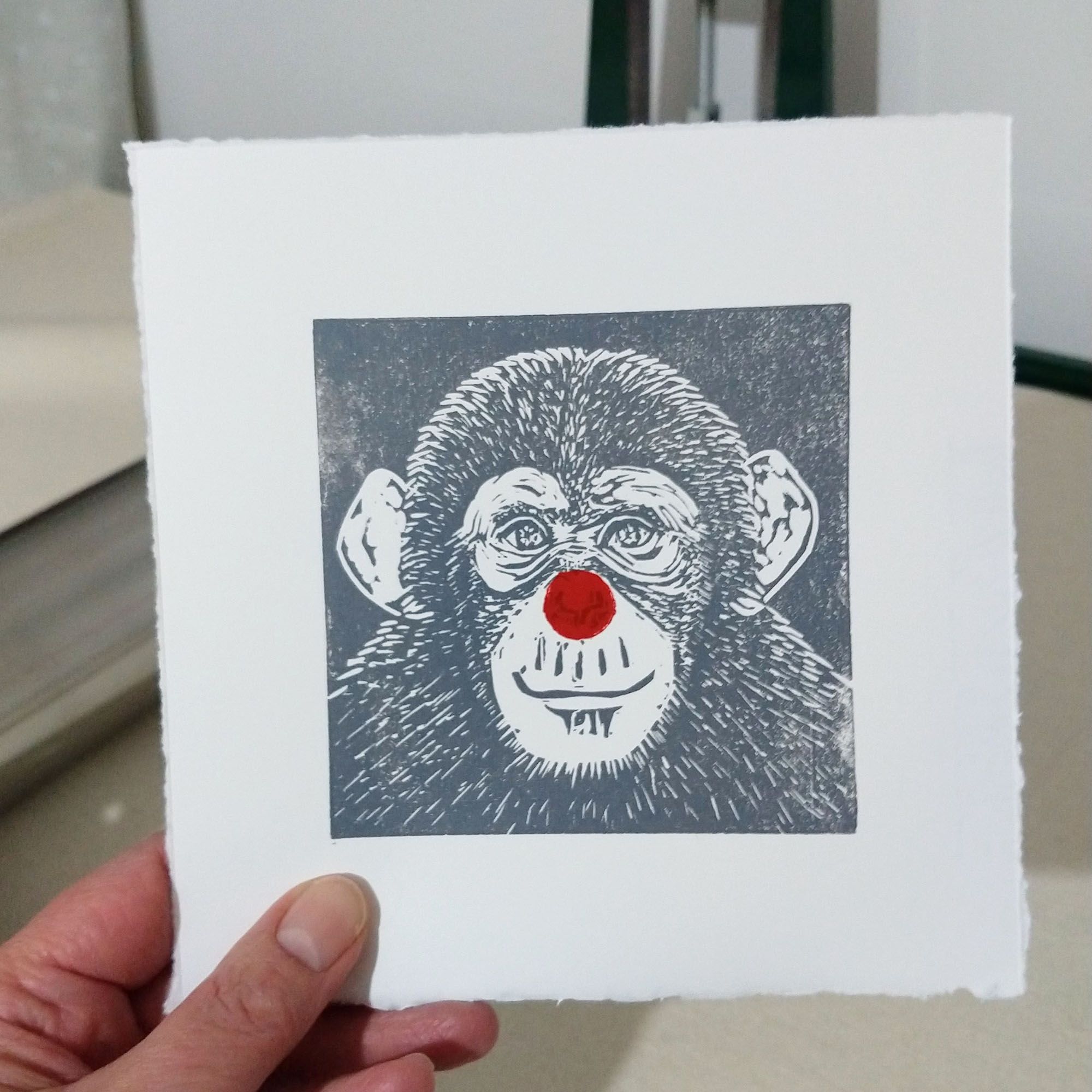 'Monkeying Around' is the third linoprint I've made for a Red Nose Day to raise funds for Comic Relief. In 2017 you helped me raise £750 with 'Cutting a Dash' and I would love to match that this year.
After the hare and dachshund of 2015 and 2017, this year's red nose is being worn by a friendly chimp in a 10 x 10 cm image.
The limited edition of 50 prints are £15 each, including FREE UK DELIVERY. Every penny of that £15 will go to Comic Relief*.
*There is an additional postal charge for overseas orders. £15 from each print will be sent to Comic Relief.
26th March update - Online sales are now closed. Thank you to everyone who ordered a print! A few will be available to visitors when I take part in York Open Studios in April.
What your money can do:
£15 (one print) could pay for three nights of shelter for a woman in Uganda fleeing domestic violence.
£30 (two prints) could pay for three homeless young people in the UK to receive a mentoring session each.
£45 (three prints) could pay for 150 tests to quickly diagnose people with malaria.
£150 (ten prints) could pay for six specialist trauma counselling sessions for refugees in the UK.