image size 10 x 10 cm
paper size 16 x 16 cm
with traditional torn or deckled edge
Individually handprinted, numbered and signed in pencil under the image
Supplied backed with card and protected by cellophane.
© Jane Duke 2019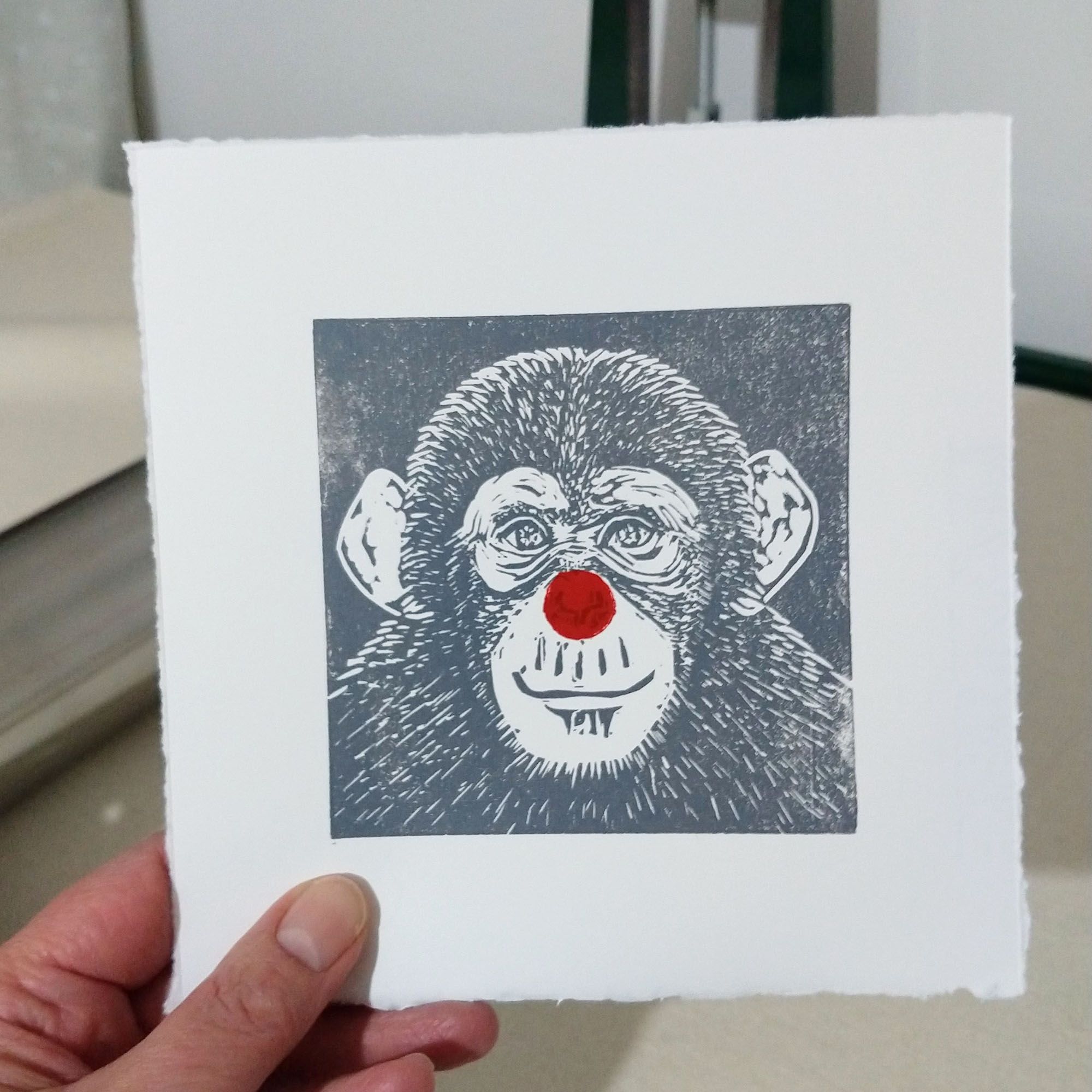 Here it is: the third linoprint I've made for a Red Nose Day to raise funds for Comic Relief. In 2017 you helped me raise £750 with 'Cutting a Dash' and I would love to match that this year.
After the hare and dachshund of 2015 and 2017, this year's red nose is being worn by a friendly chimp in a 10 x 10 cm image.
The limited edition of 50 prints are £15 each, including FREE UK DELIVERY. Every penny of that £15 will go to Comic Relief*. Prints will be available until 18th March or until they sell out, whichever comes first. Pre-orders placed in February will be despatched before Red Nose Day (15th March). Shop orders placed in March will be despatched before the end of the month.
To pre-order please complete your details on the form below and I will send you an invoice which you can pay online. Let me know how many prints you want and your full name and postal address including postcode.
*There is an additional postal charge for overseas orders. £15 from each print will be sent to Comic Relief.
Please complete the form below and click the 'Send your order' button to receive an invoice payable online.
Thank you for submitting the contact form.

In aid of Comic Relief, registered
charity 326568 (England/Wales; SC039730
(Scotland).
Red Nose Day 2019 is
FRIDAY 15TH MARCH